What do you do when you are the president of France and you are facing a crushing  defeat at the hands of the centre-left in forthcoming elections next month,  and a substantial swathe of the electorate thinks that you are the worst French leader since World War II?
If you are Nicolas Sarkozy, this question has only one answer.
You may remember that during Sarkozy's 2007 election campaign he talked a great deal about immigration and French national identity – a combination that in France, as in many other European countries, is usually evoked in reference to the Muslim immigrants who are deemed to be a particular threat to French identity.  In the case of France however, Sarkozy's ruling UMP party faces a serious electoral challenge from the far-right in the shape of Marine Le Pen's resurgent Front Nationale.
For this reason, Sarkozy has always been particularly willing to blow on the dog whistle, and has rarely missed an opportunity to do so in his five years in office. In 2007 for example, he promised to create a new Ministry for Immigration and National Identity' – a pledge that he fulfilled, though he subsequently dropped the national identity part.
In 2009 he set out to promote a ' great national debate' about French national identity, which fizzled out in February the following year, amid widespread criticisms that it had been divisive, politically opportunistic and ultimately futile.
Political opportunism, immigrant scapegoating and Muslim-baiting have remained the stock-in-trade of a politician who has rarely left any depths unplumbed.  Whether deporting Romanian Roma or banning the niqab and burqa, Sarkozy has consistently demonstrated a willingness to turn French xenophobia and racism to his political advantage that is unconstrained by any moral scruples.
The prospect of political extinction has clearly brought these instincts to the fore.  Last week Sarkozy  borrowed from David Cameron's playbook and promised to cut immigration to the tens of thousands, because there were 'too many foreigners in France' and restrict state benefits to legal migrants.
He also sought to take advantage of a pseudo-controversy begun by Marine Le Pen earlier last month, who suggested that French were unwittingly eating halal meat and that 100 percent of all meat in the Paris region was halal.
Initially Sarkozy had criticized Le Pen, but last week he waded into this pseudo-controversy with all the subtlety and delicacy of Atilla the Hun, and declared his intention to eliminate halal meat from school canteens, on the grounds that halal was the ' French people's major concern and number one topic of conversation'.
Well Sarko undoubtedly has his finger on the national pulse there.  Unemployment in France is around 10 percent nationally, rising to 20 percent amongst the youth and even 40 percent in some areas, some 800,000 people work for nothing as interns, and tens of thousands face permanent job insecurity and short-term contracts.
In these circumstances I bet your average Frenchman or Frenchwoman does nothing else but think about halal meat from the moment they wake up in the morning, and they will no doubt be cheered to know that Sarkozy is thinking about it too, and that his prime minister Francois Fillon has now told Jews and Muslims that they should stop eating kosher or halal because such foods 'don't have much in common with today's state of science, technology and health problems.'
This is really bottom-of-the-barrel stuff.   Now Sarkozy has appeared at a ridiculous US-style rally accompanied by an action man soundtrack, with celebrity backing from  the equally ridiculous buffoon Gérard Depardieu,  with a message that might easily have come from a Marine Le Pen script.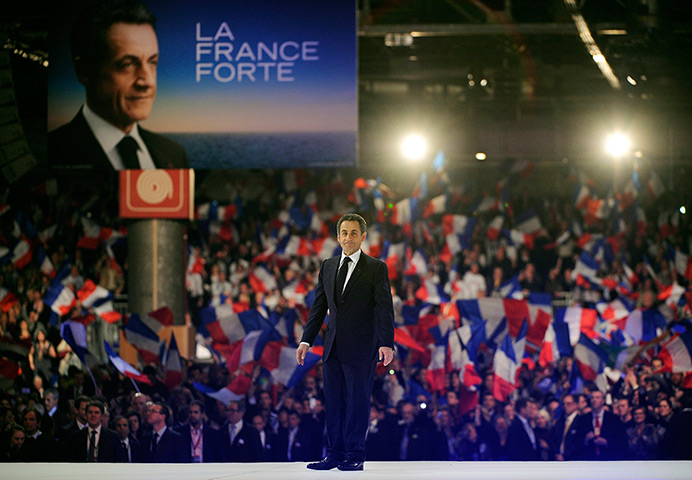 At the rally Sarkozy called on the European Union to tighten its border controls and do more to prevent the entry of illegal immigrants who are threatening European 'civilization', 'our way of life' and the 'implosion of Europe.'    Returning to  the same tune that he first played (with Berlusconi on back-up vocals) last spring in response to the rise in North African immigration via Lampedusa, Sarkozy also threatened to pull France out of the borderless Schengen area.
Sarkozy knows of course, that Europe is already doing a great deal to prevent illegal immigration, with frequently disastrous consequences for the people its borders are designed to exclude.  He undoubtedly knows that non-European immigrants remain a minority in Europe and in France itself and therefore can hardly be considered a cultural threat to 'European civilization'.
So on one level Sarkozy's willingness to wade through these sewers is a measure of the desperation of an amoral demagogue for whom Marx's description of Adolphe Thiers as 'that monstrous gnome' is equally applicable. But it is also  symptomatic of a wider phenomenon across Europe.
With Europe's political/financial elites increasingly unable to offer their populations anything but cuts and 'austerity', even mainstream politicians are opting to encroach into the far-right's political terrain and engage in anti-immigrant scapegoating, under the cover of pseudo-debates about immigration, multiculturalism and national identity.
Like Sarkozy, these debates are often presented as a recipe for good race relations and better integration – even as they stigmatize immigrants in general and certain categories of immigrants in particular.   It's a sordid, nasty and dangerous game, whose potential repercussions are very ugly indeed.  But for the Sarkozys of this world, only one thing matters: to get elected and remain in power.
And some of them really don't give a damn about how they do it.
No related posts.