Illegal Immigrants: Theresa May is Watching You
Perhaps moved by the display of patriotic fervor that accompanied the successful Royal breeding last week,   the government is engaging in a new and unprecedented display of toughness and control in order to address the 'concerns' of the British public about the porosity of 'our' borders.
Following the Home Office's 'go home' illegal immigration van,   immigration enforcement officers have been going that extra mile to make themselves visible across the country, so that we can all know that the internal as well as external borders are being protected, and that no illegal immigrant can remain secure in our green and pleasant land.
The Home Office website boasts of the numbers of 'immigration offenders' arrested around the country, supported by daily tweets announcing new arrests and sometimes linking to videos showing 'illegal immigrants' being bundled into vans.
Earlier this week immigration officers carried out a series of random checks at train stations in London.       Here are some of these intrepid guardians of the border in action at Kensal Green station in London, stopping people who 'look foreign' in order to check their identity papers: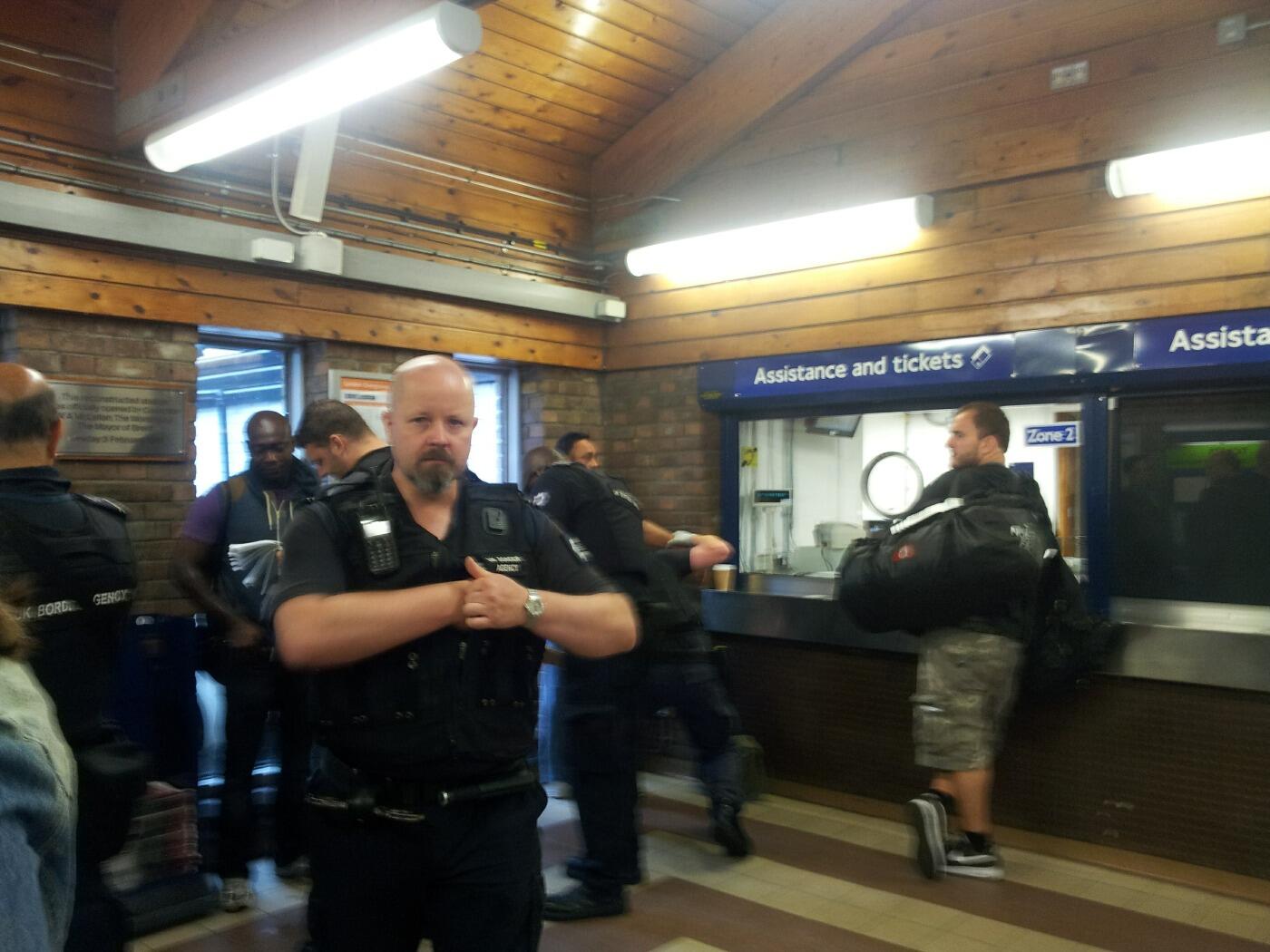 One commuter who witnessed these raids told the Kilburn Times
"They appeared to be stopping and questioning every non-white person, many of whom were clearly ordinary Kensal Green residents going to work. When I queried what was going on, I was threatened with arrest for obstruction and was told to "crack on"."
Immigration officers are not allowed to stop and search people on a speculative basis unless it has reasonable grounds for suspicion that they have committed an offense, nor are they allowed to arrest people who haven't.        Chapter 31 of the now disbanded UK Border Agency's Operational Enforcement manual makes this clear, reminding officers that
All enforcement visits constitute immigration work of the most sensitive kind. An undertaking has been given to Parliament that IOs will not carry out speculative immigration visits, ( 'fishing" expeditions). It is essential that before any enforcement visit is made, the name of the possible offender is known… In particular the detention of persons who are not immigration offenders must be avoided.
These grounds should not include skin colour or nationality, but that is clearly what is taking place, with the direct approval of the government.     Two months ago Theresa May announced that the Agency was being disbanded and its duties placed under the direct control of the Home Office, which is clearly determined to present this transformation as a turning point in the government's attempt to keep immigration down to the tens of thousands.
These speculative raids are unlikely to make much contribution to this objective, but they are not intended to.       Their aim is partly a re-branding exercise, intended to transmit a broader message to the public that this is a government that is doing something about 'illegal immigrants' – and if that means stopping random commuters because they are black or Asian-looking, then so be it.
The government clearly believes that the public has been roused to a sufficient pitch of fear and loathing that such actions are now acceptable, and has no compunctions about pandering to xenophobia and racism if it thinks it can gain political advantage from it.
The result is a country that is increasingly beginning to resemble some of the worst states in history, in a pathetic and disgraceful attempt to reassert the barriers between national citizens and 'aliens' , 'legal' and 'illegal'.
All this is hypocritically presented as a humanitarian effort to prevent exploitation and 'illegal working', but it is only likely to confirm the prejudices and assumptions that have accrued to the issue of immigration in general and reinforce the generic image of 'illegal immigrants' as criminals and parasitical intruders.
We shouldn't let them get away with it.     And here is some very useful information from the Anti-Raids Network on what to do if you see these raids happen, because the way things are going, you probably will.